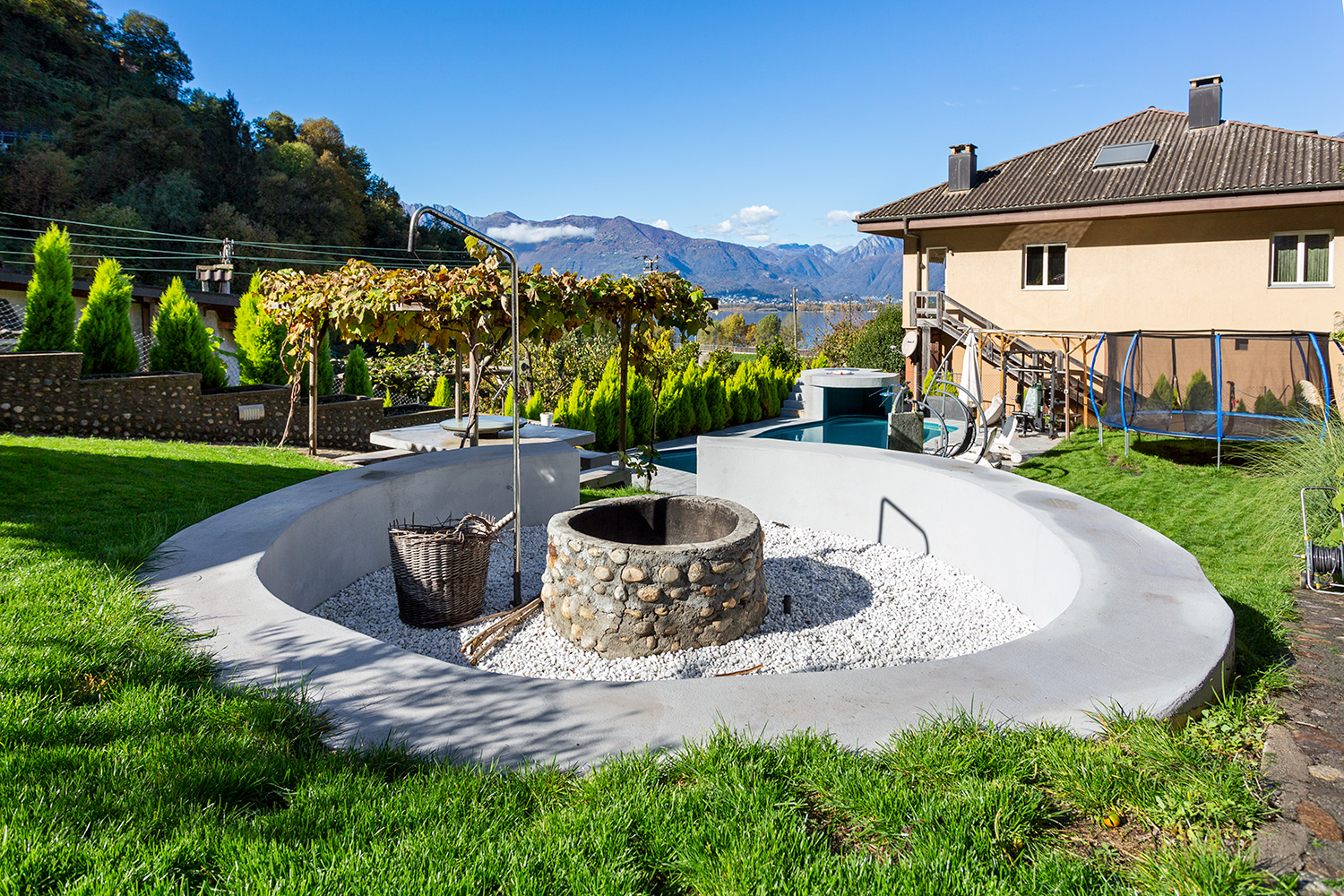 Gambarogno-Vira - Villa Indéman
Romantic, ecological and with American charm
Object for sale
Price on request
Come and discover your dream home come true with this stunning modern, spacious and eco-friendly villa! Perfect for large families or those looking for versatility and space, this semi-detached house will leave you breathless. Imagine American-style living, with ample outdoor space to enjoy every outdoor comfort, including a beautiful irregular-shaped outdoor pool with jacuzzi, a pergola, a barbecue area with grill and pizza oven.
But the real gem is the relaxation area, with a romantic central stone brazier, perfect for unforgettable summer evenings with friends and family.
From the garden, you can hear the soothing sound of a stream that can be reached via a charming path, where you can also take a bath. In just 5 minutes on foot, you can reach the lake directly from your property.
GF
On the ground floor is the 3.5-bedroom flat, consisting of a generous terrace, living-dining bedroom, kitchen with pantry, two bedrooms and a modern bathroom with shower-WC. In an adjacent small building there is also a hobby room with shower-WC and a garden service.
On the east side, there is a small but delightful annexe consisting of a cosy dining-living bedroom and kitchen, a bedroom with shower-WC, 2 technical rooms and a storage room.
1F On the first floor, on the other hand, you will find the 4.5-bedroom master flat, consisting of a distributive atrium with shower-WC, an internal staircase leading both to the ground floor and to the second floor, to the sleeping area. Continuing on this level is a generous living-dining area with eat-in kitchen and a beautiful terrace with a breathtaking view of the lake.
2F
On the second floor we have 3 bedrooms, each with wardrobe as well as a bathroom with shower-WC and a private balcony.

And to top it all off, this property is equipped with a photovoltaic system complete with inverter (67 kWh/p) and batteries 53 kWh/p) for the autonomous production of electricity. This plant generates approx. 8,000 CHF - 10,000 CHF of electricity, which is partly sold to SES and the adjacent flats and partly used for the villa's own consumption.
Parking is not a problem, the villa has 5 spacious outdoor parking spaces.
| | |
| --- | --- |
| Type of object | Villa |
| Floor | 3 |
| Bedrooms | 8 + dependance + hobby |
| Bedroom height | - |
| Plot area | 990 m2 |
| Sale area | 314.97 m2 |
| Usable area | - |
| Terrace area | ca.32 m2 |
| Garden area | 599.10 m2 |
| Swimming pool area | 31.60 m2 |
| Cellar area | - |
| Heating system | thermopump + solar panels |
| Parking spaces | 5 outdoor parking spaces |
| Year of construction | 2019 |