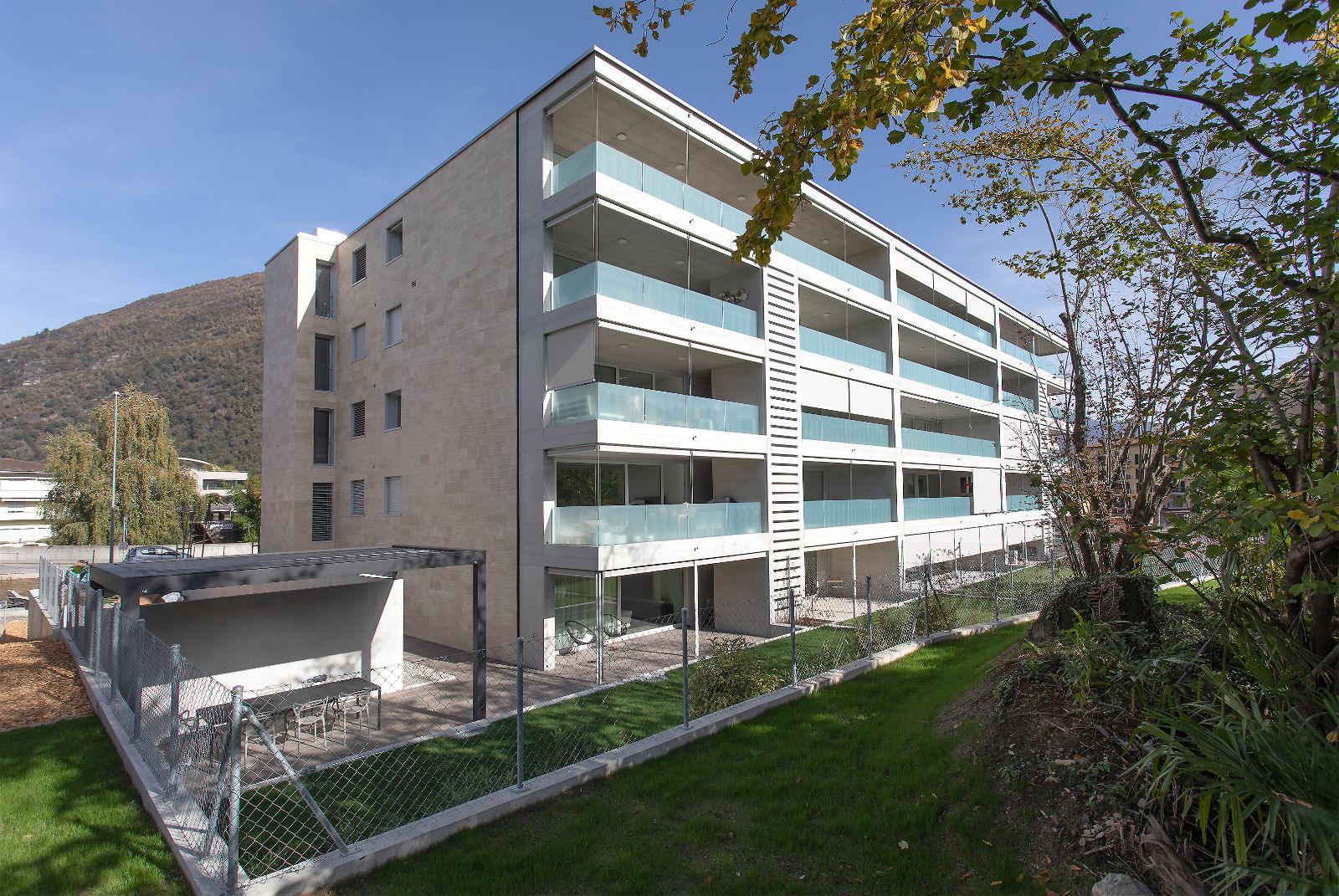 Losone - 3.5 bedroom apartment
Spacious and cosy, with secondary residence
Losone - 3.5 bedroom apartment
Spacious and cosy, with secondary residence
Object for sale
Price on request
A beautiful new building with direct access from Via Locarno, excellently exposed to the sun and in the vicinity of various services such as shopping centres, public transport, leisure areas, is located on the Losone property lot 96.
The building comprises a basement and five above-ground storeys. All the flats have large windows in the living area that guarantee brightness of the spaces at all hours of the day, especially during the winter period. The terraces, semi-enclosed in the volume, are protective and offer year-round usability.
The laundry room is located on the basement level. The cellars are located on the habitable floors, combined with the individual flats on each floor.
The garage on the basement level accommodates 41 parking spaces and a spacious bicycle room.
The technical rooms are arranged on the same level.
Heat distribution is by means of low-temperature coils, forced heat circulation by means of low-energy class A circulation pumps.
We propose new and generous 3.5 bedroom apartment no. 2.5 as follows:
entrance hall with fitted wardrobes, open plan living-kitchen, spacious 16.7 m2 terrace, terrace storage room, two bedrooms, bathroom-shower-wc, shower-wc, cellar and dedicated Schulthess washer-dryer.
Also available for this beautiful apartment is a generous cellar on the floor with window.
Type of object

apartment

Floor

2

Bedrooms

3.5

Bedroom height


2.40 m

Sale area

132 m2

Usable area


157 m2

Terrace area

16.7 m2

Cellar area

13 m2
storage room 3.7 m2

Heating system


municipal district heating
Parking spaces


in garage CHF 35'000 (2x)

Year of construction


2022
Request documentation
Are you interested in the object and would like more information? Request documentation through this form, by writing to info@pellegrirealestate.ch or by calling + 41 91 791 63 61